Welcome to the Mumba Children's Project website.
Based in the UK our Mission is to facilitate and support the needs of children in, but not limited to, Africa by providing at least one meal per day, clean water, education and healthcare.
We welcome your comments, suggestions and support in the form of Donations or Volunteering.
Please feel free to contact us!
---
Mumba Children's Project News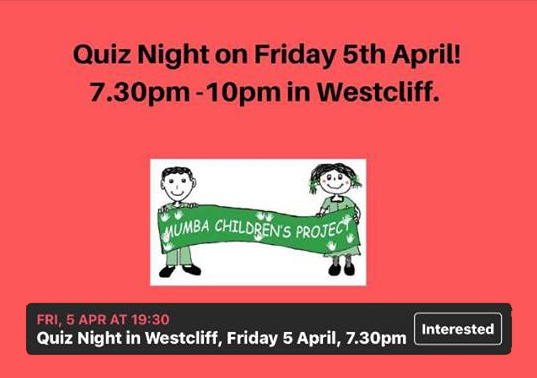 Support the Mumba Children's Project and the outstanding and often life-changing projects which supports the health, education and more general well-being of the children which are looked after by the project both in Africa and the UK.
---
Knicker's for Africa Campaign goes National
Once again our hats go off to our amazing Ambassador and Knickers for Africa Project Leader, Anita Philpott. This time Anita has secured the support of That's Life Magazine and The Knicker Locker and have made the Knickers for Africa Campaign National! Throughout the month of October That's Life Magazine in association with The Knicker Locker are running a competition to win £250 voucher to spend online at the Knicker Locker... To find out more Click Here
---
Essex Business Women also made the news with a feature story about how their bra's are off to Africa.
Click Here to read the story
---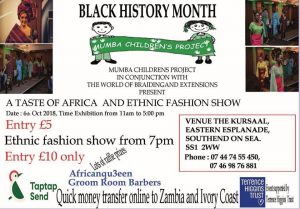 A Taste of Africa & Ethnic Fashion Show
October is Black History Month and to kick things off with style the Mumba Children's Project in association with The World of Braiding & Extensions presents an exhibition and ethnic fashion show on Saturday 6th of October 2018 at the Kursaal Function Rooms, Eastern Esplanade. Southend-on-Sea. This event is a charity fund-raiser for the Mumba Children's project and is proudly supported by: The Terrence Higgins Trust, African Queen, Groom Room Barbers, and Tap Tap Send
Come and experience some of the best of what the African Community has to offer in terms of food and fashion while supporting a really outstanding grass-roots charity! For tickets and more information phone: 07 44 74 55 450 or 011 46 98 76 881
---