2015 -2016 Annual Report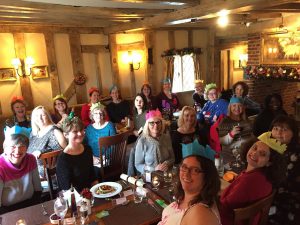 Teaming up with Winning Women to support our women in Mpongwe Zambia has made our charity be known to people who otherwise would not have heard about us. The Winning Women give us a pound each from their meetings that enables us to support underprivileged women with gardening, free chicken rearing, knitting, sewing and confidence building.
In May 2015 we received six boxes of football kits from a kind donor as our Football initiative for our boys and youth fitted perfectly with their Project 'Taking football To Africa And Beyond'. The kits were shipped to Zambia via South Africa together with twelve adult Bicycles and one child's one.
Trustee Washington Ali received the six of 75 kg of football kits
We also sent 5 sewing machines donated by Winning Women one of them being a Manual one. The shipping cost was met by money raised by donation and very generous supporters of our project. In addition to shipping costs we also had enough money left over to to sink a borehole at the Mumba Centre in Mpongwe, Zambia. The Centre now has clean drinking water.
One of our biggest challenges arose in getting the cargo to Zambia as it was held in Durban for a long time only reaching Zambia in December 2015.
Four volunteers decided to come to Zambia, Mara Christie, Rosemary Cunningham, Sherry Fuller and Vally Kitenge.
Mara Christie  ~ Mara is a mosaic artist. She decided to go to Mpongwe and do a Holding Hands project.
Volunteers in Southend made hand mosaics of their own and we took those Hands together with tools and other mosaic tiles to Zambia in September 2015.
Mara Chrystie unveiling the mural of Holding Hands Project in September 2015 in Mpongwe
The community engaged in the Mosaic project starting with young ones at the school to teenagers, adults and very elderly people were all involved in the Holding hands project. The result was a beautiful mural made on the wall of the office.
With the football kits sent we have made 13 football  teams of boys in the rural area  in the hope that we can lure these to make a difference in their lives by introducing projects slowly to them. We later in the year sourced additional football boots from around Essex.
With the help and support of Anita the Knicker Lady who has collected hundreds of pairs of new knickers, we were able to distribute the Knickers collected to the Women of Mpongwe. (Central Zambia)
Our Kitchen Garden and Children's garden well on its way to producing food for the village and in particular the children's school meals. We are so happy to be well supported by the women, youth and children who have taken up gardening at the Centre in Mpongwe.
Under Miss Malaika UK we trained Mwaka Nyirenda from Reading in charity work, Modelling, confidence building and went on in December 2015 to compete with 60 other nationalities in Magdeburg in Germany. She later fundraised and bought clothes for the children in Mpongwe. She travelled to Zambia in July 2016 taught the children, played with them and tested how to cook the food for the children in Mpongwe.
Our Annual High Tea held in July 2015 raised £305 which went to the building roofing in Mpongwe.
Other groups like the Essex Business Women contributed £500 from their Essex Business day Experience held in October 2015.
The Easter charity Ball in Reading raised £874 and this money went to the projects finishing roofing of the second classroom in Mpongwe and refurbishing the Male cancer ward at Kitwe central hospital in Kitwe, Zambia.
The Knicker Campaign started by women in Essex is going well in spearheading the Girls and Women Empowerment. Anita Philpott is leading the campaign and is fundraising the Biodegradable sanitary pads project which will be an Enterprise arm for women empowerment in Mpongwe.
Our next project will be to plaster the two classrooms and then start building the Kitchen and Dining Hall for the children in Mpongwe. Essex Winning Women are putting up an event on the 11th of February 2017 at Park Inn Hotel in Southend on sea.
The challenge still remains on meeting running costs. We intend to open up online shop, where we seek to sell the crafts made at the Centre in Mpongwe. We also intend to run more fundraising events here in the UK to support our work at the Centre in Mpongwe.
Sincere thanks to everyone including groups and organisations that have kept us afloat with their contributions.
Hildah Mulenga
Director Mumba Children's Project